Vartilingorix
Vartilingorix is a black dragon heroic encounter located in the Valley of the Ancients region of Ebon Downs.
There is also a daily quest of the same name given by Acolyte Heiron that requires you to complete this encounter (detailed below).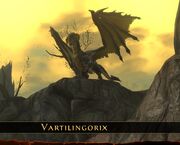 The

and
rewards for this quest scale with level. The rewards shown on this page are those given to a Level 70 character.
Acolyte Heiron
A vicious black dragon named Vartilingorix frequents these swamps. I fear he may have agreed to work with the Cult in Ebon Downs.
The dragon must be defeated if we are to prevent the Cult from achieving their goals here.
Defeat Vartilingorix
Return to Acolyte Heiron
Acolyte Heiron
Let's hope that's the last we see of Vartilingorix!
There is no walkthrough for this quest yet. You can help Neverwinter Wiki by writing one.
Acid
Bite
Claw
Frightful Presence
Tail Swipe
Wing Flap Acid