Vansi Bloodscar
Vansi Bloodscar
| | |
| --- | --- |
| Type: | Boss |
| Faction: | {{{faction}}} |
| Race: | Orc |
| Occupation: | {{{occupation}}} |
| Class: | {{{class}}} |
| Level(s): | {{{level}}} |
| XP: | {{{xp}}} |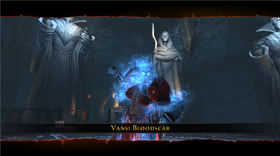 Vansi the Vicious
This letter was found in the hands of a strange orc in the Many-Arrows Orc Encampment:
Drall,
This is your last warning. I don't care if you left your "horde" to be with me. You are not of the Many-Arrows Tribe, and I care not for your advances. Try to see me again and I'll bury an axe in your back.
- Vansi Bloodscar
Vansi Bloodscar is the leader of the Many-Arrows Tribe, a clan of Orcs that has invaded the Tower District of Neverwinter.
| Name | Type | Normal DMG | Epic DMG |
| --- | --- | --- | --- |
| Slashing Frenzy | Lightning | 420-900 | |
| Uppercut | Lightning | 550-600 | |
| Melee Attack | Physical | 140-150 | |
Guardian Fighter
Great Weapon Fighter
Devoted Cleric
Trickster Rogue
Control Wizard
Hunter Ranger
Misc. Loot
Seals
Guardian Fighter
Great Weapon Fighter
Devoted Cleric
Trickster Rogue
Control Wizard
Hunter Ranger
Misc. Loot
Seals