The Shadow Falls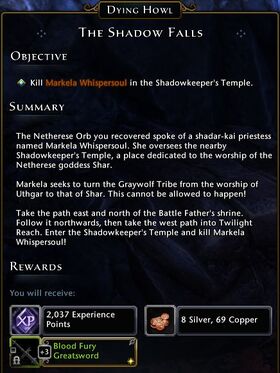 Kill Markela Whispersoul in the Shadowkeeper's Temple.
Dying Howl
The Netherese Orb you recovered spoke of a shadar-kai priestess named Markela Whispersoul. She oversees the nearby Shadowkeeper's Temple, a place dedicated to the worship of the Netherese goddess Shar.
Markela seeks to turn the Graywolf Tribe from the worship of the Uthgar to that of Shar. This canno be allowed to happen!
Take the path east and north of the Battle Father's shrine. Follow it northwards, then take the west path into Twilight Reach. Enter the Shadowkeeper's Temple and kill Markela Whispersoul!
Dying Howl
The death of Markela Whispersoul will weaken the Netherese greatly. We must continue our attack before they can recover their strength!
There is no walkthrough for this quest yet. You can help Neverwinter Wiki by writing one.