Sybella Artis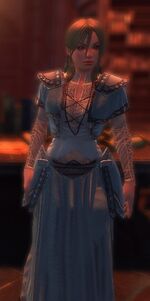 Sybella Artis is an NPC in Protector's Enclave and the main contact for the Sword Coast Chronicles Campaign. She is found in the Hall of Justice Vaults and since Mod 16, also in Sgt. Knox's old position in Protector's Enclave. (Note that she does not appear outside until you have completed The Staff of Savras).

Sybella is a seer, and a follower of Savras the All-Seeing, a demigod of fate, knowledge, law and spells. She has taken up residence in Neverwinter while she searches for the Staff of Savras, a powerful artefact in which Savras himself was once imprisoned. Lord Neverember has granted her permission to use the library beneath the Temple of Tyr as her base.

New characters first meet Sybella while chasing Honor through the vaults during The Theft of the Crown. Formal introductions to Sybella are later made by Sgt. Knox, though The Seer quest. Sybella then asks for your help in her search for the Staff, which begins the 4-part The Staff of Savras intro campaign.

Upon completion of the campaign, Sybella asks for your help to increase her seer's powers -- by further completing and claiming deeds in your Sword Coast Chronicles Campaign window, she uses the knowledge to hone her second sight. In return, you can trade with her for special items using the
she awards: