Sharandar Rewards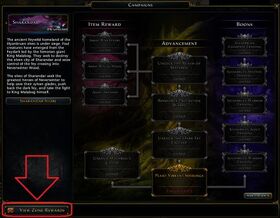 Iliyasha Guidingstar has you review some of the possible items to be gained by participating in the Sharandar Campaign.
Learn about the rewards available from the Sharandar Campaign
The View Rewards Button by pressing the Campaign button at the top of the screen which opens the Campaigns window, then pressing the View Zone Rewards button in the bottom-left of the Campaigns window to open the Rewards window.
View Reward Locations by checking the box for "Show By Location" in the bottom-right of the Rewards window.
Iliyasha Guidingstar
The elves of Iliyanbruen do not expect you to assist us without reward. If we are successful, the many resources of my people and the hidden riches of Old Sharandar will be at your disposal.
Allow me to show you some of the rewards that could be yours.
Automatic once objectives are complete.