Shades of Meaning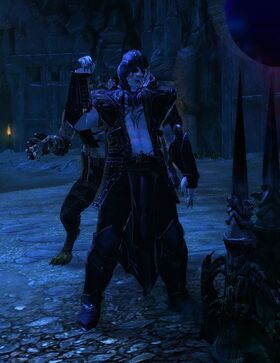 Defeat 3 Shadovar Emissaries in the Gray Wolf Battle Camp in Vellosk
Oracle of the Moon
Are you here to help me preserve this forest and its people from the taint of shadow? Yes, you have been the missing piece.
East of here, agents of the Mistress of Night are working the will of dark forces. These Shadovar Emissaries are the waves of a rising tide that will engulf not just these woods but the Coast of Swords as well.
As you are the agent of destiny, I ask you to be Selûne's levee. Hold back this tide of shadow. Kill the Shadovar Emissaries. When you are done, I will share with you Selûne's wisdom.
Defeat 3 Shadovar Emissaries
Speak to the Oracle of the Moon
Oracle of the Moon
The shadow is lifting. My vision clears. Moonlight pierces the clouds and light once more touches the world. You have the thanks of a greatful servant of Selûne
Travel east to the Gray Wolf Battle Camp
Kill three Shadovar Emissaries

There are Emissaries at (2669, 2733), (2735, 2716), (2765, 2782), (2660, 2808), and (2578, 2785)

Return to the Oracle of the Moon