Relic of the Past
Recover the Uthgardt Relic from the Xin'kar Enclave.
Kyrn Whitesky
When the Gray Wolf Trib submitted to the Netherese, we lost much of our old ways. Worship of Uthgar was replaced by worship to the dark Netherese god Shar. Shrines to the Battle Father were abandoned, and sacred relics lost.
The Forsworn are trying to reclaim the old ways. We once had a sacred relic here at the Sacred Pool, but the bandits hiding out in the Xin'kar Enclave stole it away. Recover the Uthgardt relic from the Xin'kar Enclave and return it to me.
Enter the Xin'kar Enclave
Locate the Uthgardt Relic
Defeat the Wraith Eidolon
Recover the Uthgardt Relic
Claim reward
Return to Kyrn Whitesky
Kyrn Whitesky
Perhaps with the aid of this sacred relic we may begin to mend the broken Gray Wolf Tribe.
Many Thanks, my friend!
There is no walkthrough for this quest yet. You can help Neverwinter Wiki by writing one.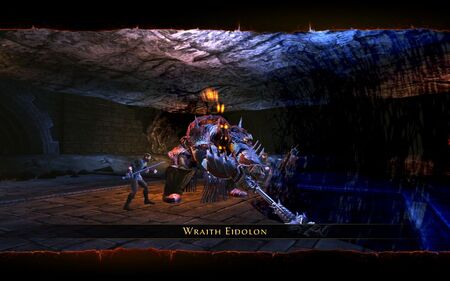 A Difficult boss to solo as it uses a magical attack that pulls anyone (including blocking guardian fighters and companions) towards it and heals several thousand health. the way to solo it is to keep out of the arc of this attack, and make sure it does not catch companions as this too will heal the boss. it may be a good idea to de-summon your companion as this is one of the few bosses that will not spawn enemies behind you.