Nature's Bounty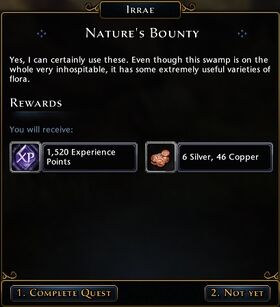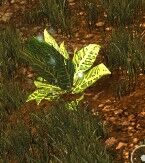 Gather 5 Medicinal Herbs snd then return them to Irrae near Mire's Edge or to Scout Tragold in Vile bog.
Irrae
You found this poultrice on one of the lizardfolk. The Herbs in it seem to be fairly easily identifiable. If you brought this poultrice and a few samples of the herbs themselves back to the Company Yargo crew, they might be appreciative for the information.
Collect 5 Medicinal Herbs
Return to Irrae
Irrae
Yes, I can certainly use these. Even though this swamp is on the whole very inhospitable, it has some extremely useful varieties of flora.
There is no walkthrough for this quest yet. You can help Neverwinter Wiki by writing one.