Masters In Twilight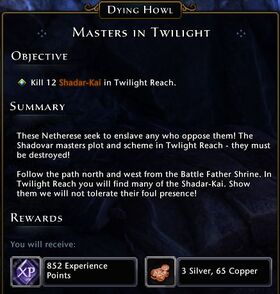 Kill 12 Shadar-Kai in twilight Reach.
Dying Howl
These Netherese seek to enslave any who oppose them! The Shadovar masters plot and scheme in Twilight Reach - they must be destroyed!
Follow the path north and west from the Battle Father Shrine. In Twilight Reach you will find many of the Shadar-Kai. Show them we will not tolerate their foul presence!
Dying Howl
You have done well. Perhaps we may one day drive the Netherese from these lands completely.
There is no walkthrough for this quest yet. You can help Neverwinter Wiki by writing one.