Gear Score PT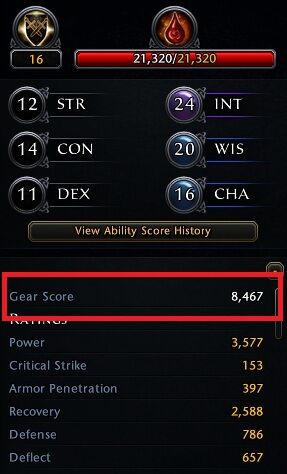 O Gear Score é uma representação do quão poderosos são os seus equipamentos, levando em conta a arma, a armadura, encantamentos e outros. Geralmente, quanto maior o seu Gear Score, mais preparado você está para enfrentar quests, dungeons, batalhas pvp e outros tipos de combate.
Informações úteis:
Você pode encontrar o seu Gear Score abrindo o seu Character Sheet (Botão padrão é "C").
Gear Score é conhecido como "GS" quando usado em chats, forums e etc.
Encantamentos também aumentam o Gear Score, além de que alguns pets também tem a capacidade de aumentar o GS.
Todas as Dungeons Épicas precisam de uma quantidade mínima de Gear Score para serem feitas. Você pode entrar em qualquer dungeon manualmente. Abaixo segue o requerimento de cada dungeon épica.
All Epic Dungeon Delves also require a minimum Gear Score to queue for. You can always enter any dungeon manually (tho note Epic dungeons, like Skirmishes have no physical entrance so they can not be entered). You can see the requirements in the list below.
Lista de Gear Score necessário para participar das Dungeons Épicas
[
edit
|
edit source
]