Bottomless Waterskin
Module:
Maybe earlier than module 16
Category:
uncategorized
Tag:
Consumable
Binding:
Binds on Equip
(Character)
Quality:

Rare

Requires class:
{{{class}}}
Requires race:
{{{race}}}
Requires level:
{{{level}}}
Item level:
{{{ilevel}}}
Damage:

{{{damage}}} Damage

Set Name:
{{{set}}}
Use:
Shoot a Water Ball at your Favorite Target.

This is a special item that can be used in the

Summer Water Fight

event.
Quest:
[[{{{quest}}}]]
Sell value:
Cannot sell
Refinement point:
{{{valueRP}}}
Buy cost:
700

The Bottomless Waterskin is a reusable item that can be purchased during the Summer Festival.
NOTE: While it is marked as consumable it will not be removed on use. The item is equipped in a consumable slot. Multiple waterskins can be equipped. Pressing the corresponding key while aiming at another player, a monster, or some of the NPCs will throw a ball of water at them. Not all NPCs and monsters can be targeted, and the waterskin has a limited range. When players are not aiming at anyone, or aim at someone who cannot be targeted with the waterskin, they will throw the water ball on the ground right where they stand.
NOTE #2: Even though the tooltip claims this item is
Binds on Equip, it is actually
Binds on Pickup.
Tooltip
Binds on Equip
(Character)
Recharge Time: 6
Use:
Shoot a Water Ball at your Favorite Target.
This is a special item that can be used in the
Summer Water Fight
event.
A waterskin that never seems to run out of water. It launches balls of water at your friends.
Consumable
No Level Requirement
Cannot sell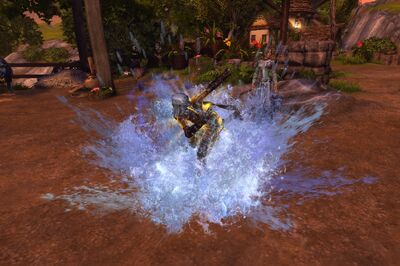 [Bottomless Waterskin (Temporary)] (Crafted version that is lost after 8 hours)